Hegensdorf Sign
Near the parking lot of the Gasthof is a sign with information about Hegensdorf. Here is an English translation.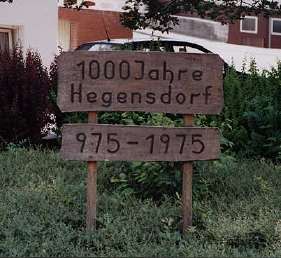 Hegensdorf can be proved to be one of the oldest villages in the Büren district. It is first mentioned in a document dated 975, which says that the Corvey monastery then belonged to "Rednesthorpe". The church was first mentioned in 1353, but its name "St. Vitus" suggests that it was founded much earlier. In the aisle of the church are some hints of rectangular walls, suggesting that these are the remains of an earlier church in the Roman style. The people of Hegensdorf have honored a holy cross for almost 750 years without a break. There are folk traditions about many miracles that this cross performed and many prayers that it answered. Hegensdorf survived the chaos of the middle ages, while neighboring settlements such as Niederanddepen and Scharboken were deserted. Since 1939 the village Keddinghausen, which also has a rich history to look back on, belongs to Hegensdorf too. The landscape gets its character from fields on the high plains, green valley-meadows, and broad pine, beech and oak woodlands with a great variety of plants and animals. Among others you may meet red deer, roe deer, wild pig, badger, buzzard, red kite, hawk, kestrel, partridge, wild duck, heron, coot and dipper. Hegensdorf lies on the boundary between Sauerland and the Paderborn plateau. In the 15 square kilometers of our district there is a 175 meter range in height (from 225m to 400m above standard sea level). Two thick layers of limestone under the ground show that in the Cenoman and Turon geological periods the region was covered by the sea. Petrified ammonites and sea-urchins found in the quarries or on the fields are mute witnesses to the geological history of Hegensdorf. During the last 250 years the population doubled to about 1000 inhabitants. Some of them work outside the village (e.g. in Büren and in Paderborn). Smaller local companies are operating in the building industry (construction companies and plumbing, gas and electrical trades), in timber processing (sawmill and joinery) and in the service industries (two restaurants and one banking institution). Around 20 agricultural businesses, some operating as independent economic units, have specialized in cattle- and pig-breeding. Most businesses have left the constraints of the village environment and set up shop on the outskirts of the village or in the surrounding farmlands.

German Text of the Hegensdorf Sign


Hegensdorf ist nachweislich eines der Altesten Dörfer im Stadtgebiet Büren.

Die erste urkundliche Envähnung datiert im Jahre 975. Das Kloster Corvey halte damals in "Rednesthorpe" Besitz.

Die Kirche wird erstmalig 1353 erwähnt. Der Name "St. Vitus" Läßt jedoch darauf schließen, daß sie schon wesentlich früher bestanden hat. Im Mittleschiff lassen die rechteckigen Wandvortagen vermuten, daß es sich dabei um Reste einer früheren romanischen Kirche handelt.

Die Hegensdorfer verehren seit fast 750 Jahren ununterbrochen ein heileges kreuz. Der Volksmund berichlet von vielen Wundern und Gebetserhörungen, die man diesen Kreuz nachsagt.

Hegensdorf überlebte die Wirren des Mittelalters, während benachbarte Siedlungen, wie "Niederanddepen" und "Scharboken" wüst fielen. Seit 1939 gehört der Ort "Keddinghausen", der ebenfalls auf eine reiche geschichtliche Vergangenheit zurückblickt, zu Hegensdorf.

Ackerflächen auf der Hochebene, grüne Talauen udn weitflächige Fichten --, Buchen-- und Eichenwälder mit ihrer vielfältigen Flora und Fauna bestimmen den Charakter der Landschaft. Anztreffen sind u.a.=Rot--, Reh-- und Schwarzwild, Dachs, Bußard, Roter Milan, Habicht, Turmflak, Rebhuhn, Wildente, Fischreiher, Bleßhuhn und Waßeramsel.

Hegensdorf liegt an der Nahtstelle zwishen Sauerland und Paderborner Hochfläche. In der 15 gkm großen Gemarkung gibt es Höhenunterschiede bis zu 175 Metern (225 m bis 400 m über NN). Zwei dicke Kalkschichten im Untergrund lassen auf eine große Meeresüberlagerung im Zeitalter des Cenoman unol Turon schließen. Versteinerte Ammoniten und Seeigel in Steinbrüchen und auf Äckern sind stumme Zeitzeugen der Hegensdorfer Erdgeschichte.

In den letzten 250 Jahren verdoppelte sich die Bevölkerung auf rund 1000 Einwohner. Ein Teil der Bewohner arbeitet außerhalb des Dorfes (u.a. in Büren und in Paderborn). Einheimische kleinere Betriebe gibt es im Bauhandwerk (Bauunternehmen und Installationsbetriebe), der Holzverarbeitung (Sägewerk und Tischler) und im Dienstleistungsgewerbe (zwei Gaststätten und ein Geldinstitut). Etwa 20 Landwirtschaftliche Betriebe, du zum Teil im Vollerwerb geführt werden, haben sich auf Rindvich-- und Schweinehatung spezialisiert. Die meisten Betriebe haben du enge Dorflage verlassen und am Dorfrand, bzw. in der Feldflur ihren neuen Standort gefunden.